About Us
Taura Gold Inc. (TSX-V: TORA) is a Canadian gold exploration company focused on advancing its 100% owned Shabu Property in the Red Lake Mining Division in northwestern Ontario.
Latest News
About the Shabu Project
The Shabu property is located in the Birch-Uchi greenstone belt, approximately 80 km northeast of Red Lake, Ontario. The road accessible property is made up of 32 mining claims that cover an area of 720 ha.
Historic work on the property has defined gold mineralization at surface through trenching and diamond drilling. Gold mineralization at the property occurs in quartz-carbonate veins with 2-3% pyrite hosted in shear zones associated with contacts of the granodiorite and porphyritic dykes.
Recent work on the property includes soil sampling (2020), airborne VLF-EM (2020) and high-resolution magnetic surveys (2019). This recent work has defined multiple areas of interest for further exploration work at the property. Future work will include prospecting and mapping, additional soil sampling and outcrop stripping to determine controls on gold mineralization and alteration.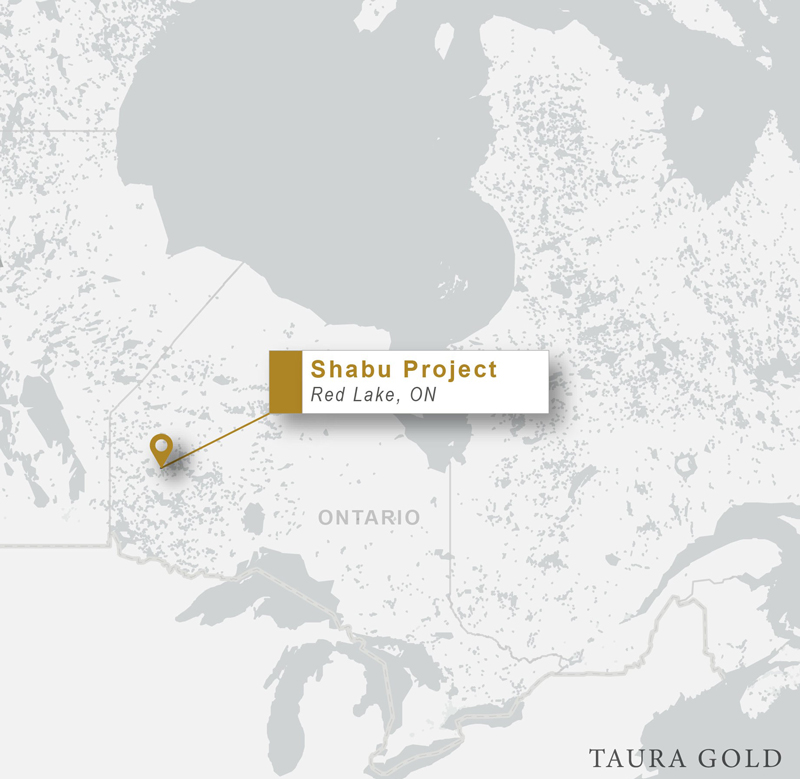 Management & Board
Dominic Verdejo - President, CEO and Director
Mr. Verdejo has over 12 years´ experience in the venture capital markets, specializing in the design and implementation of market strategies and corporate development. He has particular expertise in the mineral exploration and development sector and has been involved in the building and financing of many successful public companies. Mr. Verdejo has held director and senior officer positions in several public companies.
Joseph Meagher - CFO and Director
Mr. Meagher became a Chartered Professional Accountant (CPA, CA) in 2008, and obtained the Chartered Director (C.Dir.) designation from The Directors College (a joint venture between McMaster University and The Conference Board of Canada) in 2017. Mr. Meagher currently serves as the Chief Financial Officer for several publicly listed companies. Previously, Mr. Meagher worked at Smythe CPA as a manager. Mr. Meagher also holds a Bachelor of Commerce from the University of British Columbia.
John Dorward - Director
Mr. Dorward has over 25 years of experience in the mining and finance industries. Mr. Dorward was the CEO of Roxgold from 2012 to 2021. Prior to that role, he served as Vice-President - Business Development at Fronteer Gold Inc. and was an integral part of the team that sold the large Michelin uranium deposit, acquired AuEX Ventures Inc. and successfully advanced Fronteer's properties prior to its sale to Newmont Mining Corporation for $2.3 billion in 2011. Prior to his role at Fronteer, Mr. Dorward was the CFO of Mineral Deposits Limited from 2006 to 2009, where he was responsible for financing the construction of the Sabodala Gold Project in Senegal, West Africa. Mr. Dorward was previously CFO at Leviathan Resources Limited, an ASX-listed gold producer, prior to its acquisition in 2006. Prior to Leviathan Resources, Mr. Dorward was a senior executive at MPI Mines Limited, an ASX listed gold and nickel producer, prior to its acquisition by Lionore Mining Limited. He was a non-executive director of Pilot Gold Inc. from 2011 to 2015 and is currently a non-executive director of Contact Gold and Surge Copper.
Karly Oliver - Director
Ms. Oliver is a professional geologist with more than a decade of experience in the exploration and mining industry. She has previously worked with New Gold Inc.'s corporate exploration group where she coordinated exploration programs and mineral resource delineation projects across North America. Ms. Oliver acts as a technical consultant for several publicly listed exploration companies exploring for and advancing gold projects in Canada and internationally. She a Professional Geoscientist in British Columbia and holds a Bachelor of Science in earth and ocean sciences from the University of British Columbia and a Geographic Information Systems Applications Specialist Graduate Certificate from Sir Sandford Fleming College.
Oliver Lennox-King - Director
Mr. Lennox-King was the Chairman of Roxgold Inc from 2012 until its acquisition by Fortuna Silver Mines Inc in July 2021. From 1992 he held executive and board positions with a number of junior exploration and mining companies. His most notable Chairmanships included Roxgold, Pangea Goldfields, Aurora Uranium and Fronteer Gold. Other directorships have included Southern Era Diamonds and Teranga Gold Limited.